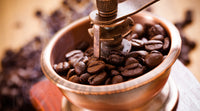 First things first, what is the grind size?
The grind size is how fine or coarse the coffee beans are ground.
FINE GRIND
(small particle size)

MEDIUM GRIND
(medium particle size)

COARSE GRIND
(large particle size)
Why does the grind size matter?
The size of the grind directly effects the flavour of the coffee in your cup. When brewing coffee the hot water needs to saturate and pass through the coffee evenly for a good quality extraction. If it takes too long the coffee can taste burnt and bitter, this is commonly referred to as over extraction. If the water passes through the coffee too quickly your coffee can taste watery and lack flavour and body, which is referred to as under extraction.
How to select the correct grind size
The type of equipment you use to brew your coffee will determine the appropriate grind size.
As a rule of thumb, the shorter the brew time the finer the grinder should be and accordingly, the longer the brew time the coarser your grind should be.
Suggested grind sizes for popular brewing equipment
| | | | | | |
| --- | --- | --- | --- | --- | --- |
| EQUIPMENT | Espresso | Stovetop | V60 Pour Over | Aeropress | Plunger |
| GRIND SIZE | Extra Fine | Medium - Fine | Medium | Medium - Coarse | Coarse |
| BREW TIME | Approx. 20 - 34 seconds | Approx. 3-4 minutes | Approx. 3 minutes | Approx. 1-3 minutes | Approx. 3-5 minutes |