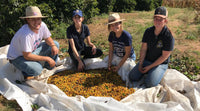 Flowers in Action (Flores em Ação) is a project created by women, supported by women and focused on women to empower female coffee farmers in Brazil.
"Flores em Ação" or Flowers in Action encourages women to produce, process and brand their very own coffee, showcasing their talent, creativity and journey. Their dedication and passion have proved to be essential ingredients in the creation of outstanding micro-lots. All revenues from this project go straight to the women involved.
This initiative not only values their work but also creates new opportunities in coffee, in their families, communities and association. The project also promotes activities to help their professional and personal development such as courses, seminars, implementation of environmentally friendly farming methods and incentive to join local coffee competitions.
Flowers in Action aims to empower women and help them occupy leadership roles within the association. 
We are very proud to be offering a stunning microlot produced by Marcia De Jesus Souza Borges.
MARCIA DE JESUS
 Marcia started working with coffee around 3 decades ago. Her land is located at Mantiqueira de Minas region – an area very favorable for quality coffee. She is the main pillar of her family, a strong woman who is also the reference for her daughter. "Andressa is a talented new-generation farmer who is writing her own story" – says Marcia.
Working with coffee has some downs, Marcia tells, specially when facing low prices as she needs to find ways of keeping up with bills. But she also sees the positive side of it, when she can be creative and produce her own coffee. "The hope of producing a valuable micro-lot makes all our efforts worthy" – she says. Her coffee has been awarded in local competitions and has notes of rapadura sugar and red fruits.
Previous 'Flowers in Action' producers we have featured.
PAMELA BORGES

Pamela is a member of APAS - The Alto da Serra Producers' Association. She is also one of the women behind Flowers in Action. The coffee is grown in the Mantiqueira region of Minas Gerais, which has an ideal micro-climate: rainy during summer and dry during ripeness and harvesting periods. The mountainous area inhibits the use of machines, so coffee is selectively hand-picked.
DEISY - SITIO MONTE ALTO
Deisy is a member of APAS - The Alto da Serra Producers' Association. She is one of the women behind Flowers in Action. Together with her family, they've been growing coffee for more than 20 years. In 2015 they acquired Sitio Monte Alto in the

Mantiqueira region of Minas Gerais

, where they focus on Yellow Bourbons.