Coffee Articles
Canopy Cocoa Drinking Chocolate helping to protect the Amazon Forest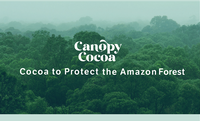 Canopy Cocoa from the Amazon Forest

Introducing a new addition to Silva Coffee Roasters beverage range
Canopy Cocoa is the perfect choice for health-conscious, ethical consumers. It has many health benefits, plus supporting indigenous farmers to protect the Amazon rainforest.  
Pure Amazon cocoa is sourced from deep in the Amazonian Forest and harvested by Indigenous cooperatives to sustainably bring 
income to their communities. Canopy Cocoa supports these communities to maintain their traditions and culture by purchasing produce at a fair price and keeping the forest intact and alive for future generations.


Problems facing The Amazon Forest
Deforestation in the Amazon can have global impacts, as the forest plays a critical role in regulating the earth's climate by absorbing carbon dioxide from the atmosphere.
Animal trafficking in the Amazon rainforest is a serious issue that has detrimental effects on the biodiversity of the region.
Displacement of indigenous people. The Amazon rainforest is home to numerous indigenous communities. Logging and mining have led to the displacement of many of these communities.
 The Mission of Canopy Cocoa 
01
Create awareness of the environmental, social and cultural problems in The Amazon and Brazil
02
Build brand awareness of Canopy Cocoa and how ethical consumption of cocoa and drinking chocolate can bring about change
03
Give back to indigenous communities to help build a better future for the locals and the environment for the world 
The Raw Ingredients
 Pure Amazon Cacao
Cocoa is rich in the antioxidants, vitamins and minerals found naturally in the cacao bean. Only Amazonian cacao can claim to be free of cadmium, a harmful heavy metal found in the soil of other cacao producing areas.
Unrefined Organic Rapadura
The organic sugar cane plantation is located on the Jacutinga Farm which has been organic since 1986 in efforts to protect the flora and fauna. Rapadura is the rawest form of sugar. It is not processed at high temperatures so the natural nutrients are retained. It has a low GI (glycaemic index) and is high in antioxidants and essential vitamins like A, B1, B2, B6, niacin and iron
.
The Story behind Canopy Cocoa
For the past decade, Marcelo Brussi founder of Canopy Cocoa, has worked tirelessly to build long-term, ethical relationships with coffee farmers and now is extending his reach to incorporate sustainable cocoa.
"If you want sustainable coffee, why not sustainable cocoa too?'
After seeing the devastating impact of deforestation firsthand, he launched Canopy Cocoa, to make a real difference.
To build awareness and affect change for environmental protection of the Amazon through consuming ethically farmed cocoa in Brazil to the Australian market.