Coffee Articles
Bom Jesus & Labareda Coffee Farm - Awarded Brazil's Most Sustainable Coffee Farm 2023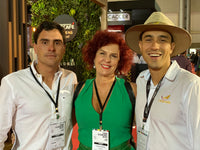 Congratulations to Bom Jesus and Labareda Farm for winning Brazil's 'MOST SUSTAINALBLE COFFEE FARM AWARD" for 2023!
Listen here as they share some of their story
Founders, Flavia and Gabriel Oliveira, ancestors' have been growing coffee for nearly 150 years in the Alta Mogiana region, Sao Paulo.
The area is impressive, approximately 8,000 hectares where they plant mainly Bourbon and Mundo Novo varieties.
Bom Jesus farm has been awarded in local and national competitions as one of the best coffees from Alta Mogiana region, the same region Marcelo Brussi's grandfather was born in 1913, inside a coffee farm. The care and passion from producing high quality coffee has been inherited by Flavia and Gabriel son's Lucas and Gabriel. Using traditional methods for drying coffee, Bom Jesus is known by its unique coffee flavour and delivers caramel and sweetness to any coffee cup it has been part of.
BOM JESUS FARM
GABRIAL & FALVIA OLIVEIRA (Founders Bom Jesus Farm)
GABRIEL (son) LABAREDA FARM (left) & MARCELO, MINAS HILL (right)
LUCAS, BOM JESUS FARM
GIMA PROJECT