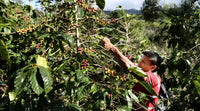 REGION: MATAGALPA
ELEVATION: 1400 - 1800 MASL
VARIETAL: CATURRA AND CATUAI
CERTIFICATION: ORGANIC COFFEE
DECAFFEINATION PROCESS: MOUNTAIN WATER
NOTES: PEACH, ROAST ALMOND, JUICY BODY
Our new release Selva Negra Decaffeinated coffee is grown at La Hammonia farm at Selva Negra Coffee Estate. The green coffee is sent to Veracruz, Mexico, where it is then decaffeinated using the Mountain water process (the same as Swiss Water but not trade marked). This process is chemical free and retains the organic certification of the coffee. By purchasing the coffee directly from the farm, shipping it to Mexico and arranging the decaffeination process, it has complete traceability, along with fair pricing for the farm.
About Selva Negra Coffee Estate
Mausi and Eddy, owners of Selva Negra, are the children of coffee farmers, both of German descent after their grandparents had immigrated after the war, they decided to buy a coffee farm in 1974 after getting married. They called the farm La Hammonia (hamburg), a nod to their German heritage, and later the area of land which they own became Selva Negra. Selva Negra encompasses not only the farm but the Eco Lodge, restaurant and facilities that Mausi and Eddy have slowly created. It is difficult to aptly explain Selva Negra because it is such avast and compelling example of what a coffee estate could be.
Coffee produced at La Hammonia Sustainable Farm 
La Hammonia has 12 separate lots, each lot is separated by Varietal and unique in it's elevation, with the elevation ranging from 1200-1400masl. The lots are shade grown and the trees are fertilised with organic fertiliser made on the farm, La Hammonia is certified Organic. The cherries are picked and then taken to the wet mill on the farm, where the coffee is processed using water from the mountain.
Fermentation is 12 hours in the mucilage and then a second wash, before being moved to the covered drying beds. The lots are harvested individually, cupped and then blended so there is traceability of lot volumes and cup profile from season to season. Once the coffee is dry It is moved to the dry mill on the farm where it is processed and packed. There is a nursery on the farm which is used for new tree planting, they are currently replanting 50 hectares at a time as some of the trees are over 65 years old. They are also growing and experimenting with a new variety called Marsellaza – an improved Catimor variety.