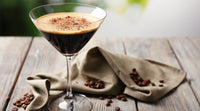 Coffee meets cocktail in this perfect mixture, guaranteed to satisfy both the coffee lover and the cocktail lover in you. The ideal mix of an after dinner drink and a coffee lover's dream. Our version of the Espresso Martini is only slightly sweet, so that the full, rich, coffee flavour can shine through. This cocktail is guaranteed to be the perfect end to your night, although you may not want to stop at one!*
Ingredients:
(Makes 2 martinis)
100 ml vodka
50 ml coffee liqueur of your choice (Kahlua or Tia Maria are both very nice)
2 shots espresso
1 -2 tsp simple syrup if you need any extra sweetness
 Directions:
Fill a cocktail shaker with ice
Add all of the ingredients and shake well – at least 20 seconds to create some foam
Strain into 2 martini glasses
Spoon any foam left in the shaker on top of each drink
Garnish with 3 coffee beans for that classic touch.
Enjoy!
If you don't have any coffee beans for garnish, try a sprinkle of pure cocoa powder for some extra depth of flavour.
Enjoy playing around with the ratios of the ingredients, just like we all like our coffee a little differently, the same is true of the espresso martini.
*Responsible consumption of alcohol is always recommended!  
WARNING Under the Liquor Control Reform Act 1998 it is an offence:
To supply alcohol to a person under the age of 18 years (Penalty exceeds $19,000)

For a person under the age of 18 years to purchase or receive liquor. (Penalty exceeds $800)"