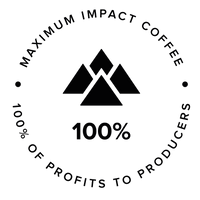 Mota Bandeira
Mota Bandeira is the name of a popular waterfall in Timor-Leste near to the Raimutin Wet Mill, and one of the country's main tourist destinations. Forest-grown, the mota bandeira lots are fully shade grown in the wild forest lands of the Ermera Region. These trees have never been affected by fertilisers, chemical additions, and as such are organic by default. 
Timor-Leste is a young nation, where coffee has become the most vital crop to secure the country's future.
In 2002, Timor-Leste became the first new independent state of the 21st century. This was preceded by 25 years of conflict that had claimed 200,000 lives and destroyed all infrastructure, pushing most into extreme poverty. Currently, Timor-Leste is the country most reliant on oil for income, a rapidly depleting resource. Coffee is their most important and profitable crop, and is the nation's second largest export.
With the end of oil income in sight, improving the coffee sector is of critical importance right now.
Presently, however, the productivity of coffee as a crop is extremely low due to several factors (most notably, aged trees reducing yields, and questionable land tenure). The profitability of the crop for a producer is both low and volatile, as almost all coffee is sold in the commodity market at a discounted C price.

With that fact in mind, 37% of Timor-Leste's households depend on coffee for income, leaving them in a position of vulnerability in a market they are soon to vitally depend on.
The choices of the specialty coffee industry have an outsized ability to influence positive outcomes for producers and the wider environment.
The value of the specialty coffee market continues to accelerate with a projected compound annual growth rate of 11-12% across the next 5 years. Total market value was estimated to be 35 billion USD in 2018 and is expected to grow to over 80 billion USD by 2025.
This is an exciting opportunity for development through trade.
This is one of the few crises in the world for which the solution is direct and self-sustaining: with the appropriate investments and continued effort, the growing demand for high-quality coffee can be fulfilled by historically marginalised groups to great long-term effect.
We are proud to be working in partnership with Ameta, Coffee Farmer and Entrepreneur, Raw Materials and Maddog Adventures to bring you a premium coffee from the island country of Timor Leste, just 400km off the North coast of Australia.
Ameta's farm is located in Atsabe in the Ermera region of Timor Leste, working closely with Raw Materials Ameta has been instrumental in improving the quality of coffee in Atsabe. This has led to increased productivity and demand in markets that offer higher, stable prices. For example, in 2018 a coffee from Ameta won 1st place after a week of blind cupping by international judges.